Baltimore Chamber Jazz Society Presents New York Voices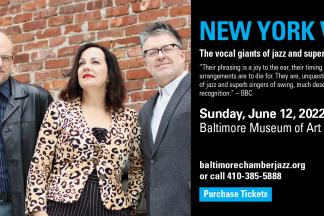 The Baltimore Chamber Jazz Society (BCJS) will present its inaugural vocal ensemble performance as part of its 30th anniversary celebration. Grammy Award winners, New York Voices (NYV) will take the stage, making their Baltimore debut.
Renowned for their excellence in jazz and the art of group singing, NYV was formed in 1987 and comprises the following artists: Peter Eldridge, Darmon Meader, Kim Nazarian and Lauren Kinhan. Following the likes of Lambert, Hendricks and Ross, Singers Unlimited, Manhattan Transfer and Take 6, they have learned from the best and taken the art form to new levels. While rooted in jazz, they often bring Brazilian, R&B, classical and pop influences.
Besides their own CDs, NYV has made many guest appearances on recordings and live performances that have earned them critical acclaim and demand in a variety of musical settings. You can find their performances on such CDs as their Grammy award winning collaboration, Count Basie Orchestra with New York Voices, Live at Manchester Craftsmen's Guild (MCG Records), the contemporary classical The Ancient Tower (Robert Lepley - EarthBeat Records), Heirs to Jobim (BMG Records), Don Sebesky's I Remember Bill (BMG), Jim Hall's By Arrangement (Telarc), A Love Affair - the Music of Ivan Lins (TELARC), Irving Berlin's Louisiana Purchase (DRG), and many more.
NYV has performed with many influential jazz artists including Ray Brown, Bobby McFerrin, Nancy Wilson and George Benson. In addition to appearing at Carnegie Hall, Lincoln Center, The Kennedy Center, The Blue Note (Japan, NYC), the Vienna Opera House, the Zurich Opera House, the North Sea Jazz Festival, Montreal Jazz Festival, and the New Orleans Jazz and Blues Heritage Festival, they have worked closely with the Boston Pops, developing holiday and baby boomer-themed programs.
About BCJS
The Baltimore Chamber Jazz Society is a nonprofit organization supported in part by a grant from the Maryland State Arts Council. Its mission is to bring to Baltimore outstanding jazz musicians, to present them in an intimate concert setting, to keep ticket prices as low as possible, and to carry forward the long and illustrious history of jazz in Baltimore. For 30 years BCJS has carried on the Baltimore tradition of Sunday jazz concerts that started with the renowned Left Bank Jazz Society.
BCJS concerts feature the most serious, advanced and adventurous musicians and groups in the art form. This unwavering commitment to the art form underlies every effort conducted by the organization, including staying within and promoting Baltimore's cultural fabric. For more information, visit baltimorechamberjazz.org, call (410) 385-5888 or follow @baltimorechamberjazz on Facebook.
Event Contact
Juliana Marin
4103855888
Event Details
Sunday, June 12, 2022, 5:00 PM – 7:00 PM
4103855888
Location
Add Event To Your Calendar