BSO Presents Holst the Planets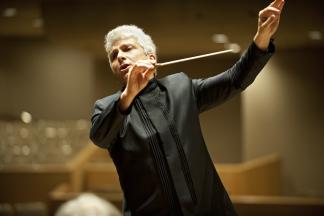 Familiar to BSO audiences, masterful conductor Peter Oundjian leads the orchestra in a thrilling performance of one of the most mystical classical works, Holst's The Planets. The program also includes the tone poem Dust Devils by Canadian-born composer Vivian Fung and Debussy's Nocturnes, the ultimate impressionist work capturing the beauty and wonders of planet Earth.
This performance will also occur on Sat., May 21 at 8 PM at The Music Center at Strathmore in North Bethesda, Md. For information on the latest guidelines concerning vaccination requirements, please visit BSOmusic.org/ResponsibleReturn. Dates, times, and locations are accurate as of the posting of the event information. For more information, visit www.BSOmusic.org or contact [email protected] or by phone at 410-783-8000 or toll free 877-276-1444.
Artists Peter Oundjian, conductor Women of the University of Maryland Concert Choir
Edward Maclary, director
Repertoire VIVIAN FUNG Dust Devils DEBUSSY Nocturnes HOLST The Planets
Event Contact
Baltimore Symphony Orchestra
410-783-8000
Event Details
Repeats daily -- until Sunday May 22, 2022 -- except Saturday May 21, 2022.
410-783-8000
Location
Add Event To Your Calendar