The Asian American Pacific Islander Women's Voices Theatre Festival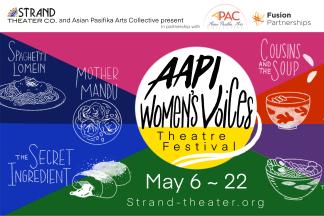 Celebrate Asian American Pacific Islander (AAPI) Heritage month with the Asian Pasifika Arts Collective and the Strand Theater at The AAPI Women's Voices Theatre Festival (live) which opened on Friday, May 6, 2022 and runs through Sunday, May 22. Thursday-Saturday performances start at 8pm, Sunday matinees start at 2pm.
Tickets are Pay What You Can starting at $5 and can be purchased here: https://www.strand-theater.org/. All performances take place at 5426 Harford Rd. Baltimore MD 21214.
Proof of vaccination or a negative Covid-19 test within 48 hours of a performance, plus mask wearing are required for attendance. Only actors will be unmasked during performances, however they are fully vaccinated and are tested periodically for COVID-19 before weekend shows.
Following a nationwide call for submissions in the Fall of 2021, and subsequent review and selection by a collective panel of readers from both host organizations, the Festival will feature two one-act and four ten-minute plays from six finalists in a book-in-hand or staged reading format. All plays submitted to the Festival were required to follow a set of guidelines, including the length of the play, the number of allowed characters, and the inclusion of specific plot "ingredients," such as a misunderstanding, a memory, and a family recipe.
The Festival will showcase between two and five plays during each performance, due to their varying lengths. In order to experience all six productions, we encourage our patrons to attend the Festival more than once. In addition to the play performances, the Festival will include two panel discussions. The first discussion, titled Food Culture and the AAPI Community, will be hosted on Sunday, May 15, following the matinee performance. The second panel on Friday, May 20 (following the evening performance) will be a conversation with the playwrights and directors of the festival.
The Festival is hosted by the Asian Pasifika Arts Collective, a Baltimore based non-profit that uses art to advocate representation of AAPI Americans in everyday life while building cross-community relationships, and by the Strand Theatre, the only brick-and-mortar Baltimore theatre dedicated to solely supporting and amplifying women's voices on stage.
Event Contact
Jolene Mafnas
703-731-4907
Event Details
Repeats weekly Thursday and Friday and Saturday -- until Sunday May 22, 2022.
Repeats weekly Sunday -- until Monday May 23, 2022.
Location
Add Event To Your Calendar