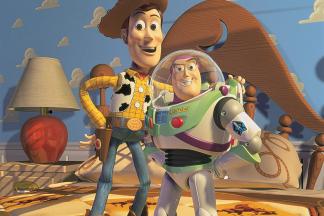 Susie Benchasil Seiter, conductor
Ever wonder what toys do when people aren't around? Toy Story answers that question with a fantastic fun-filled journey, viewed mostly through the eyes of two rival toys – Woody, the lanky, likable cowboy, and Buzz Lightyear, the fearless space ranger.  Led by Woody, Andy's toys live happily in his room until Andy's birthday brings Buzz Lightyear onto the scene. Afraid of losing his place in Andy's heart, Woody plots against Buzz.
But when circumstances separate Buzz and Woody from their owner, the comically-mismatched duo eventually learn to put aside their differences, and they find themselves on a hilarious adventure-filled mission where the only way they can survive is to form an uneasy alliance.
Presentation licensed by Disney Concerts © All rights reserved.
This concert also takes place on Sat., Jul 16 at 3 PM at the Music Center at Strathmore in Nothe Bethesda, Md.
Dates, times, and locations are accurate as of the posting of the event information. For more information, visit www.BSOmusic.org or contact [email protected] or by phone at 410-783-8000 or toll free 877-276-1444.
Event Contact
Tymarra Sherrill
Event Details
Repeats daily -- until Sunday July 17, 2022 -- except Saturday July 16, 2022.
410-783-8000
Location
Add Event To Your Calendar