Candlelight Concert Society's The Knights Chamber Orchestra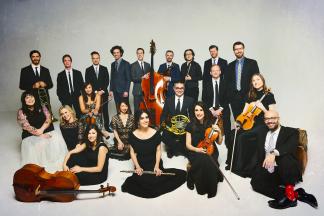 Opening Candlelight Concert Society's 50th-anniversary season, The Knights will perform music by Ludwig van Beethoven and Czech composer Leos Janacek as well as a new, original piece by composer Viet Cuong commissioned by the society. A chocolate and champagne toast celebrating 50 years will follow the performance.
Tickets cost $45. With the purchase of one adult ticket, an accompanying child up to age 17 will receive a ticket free of charge. Student tickets cost $10. To purchase tickets, visit CandlelightConcerts.org or call 410-997-2324.
https://next.candlelightconcerts.org/concerts/2022-2023/the-knights-chamber-orchestra
Sunday, Sept. 11, at 4 p.m.
Horowitz Visual and Performing Arts Center at Howard Community College
10901 Little Patuxent Parkway
Columbia, MD 21044
Event Contact
410-997-2324
Event Details
Sunday, September 11, 2022, 4:00 PM – 7:00 PM
410-997-2324
Location
Add Event To Your Calendar