Candlelight Concert Society's Hanzhi Wang and Steven Banks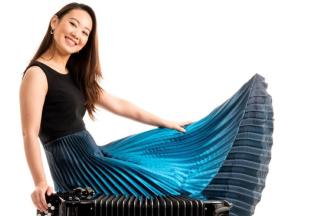 Hanzhi Wang, the first accordionist in history to win first prize in the New York-based Young Concert Artists competition, will join saxophonist and composer Steven Banks, who also won Young Concert Artists' first prize on his instrument. Wang and Banks join Candlelight Concert Society through a multidecade partnership between the society and Young Concert Artists. The concert is part of the Candlelight Concert Society's 50th-anniversary season.
Tickets cost $45. With the purchase of one adult ticket, an accompanying child up to age 17 will receive a ticket free of charge. Student tickets cost $10. To purchase tickets, visit CandlelightConcerts.org or call 410-997-2324.
https://next.candlelightconcerts.org/concerts/2022-2023/hanzhi-wang-accordion-and-steven-banks-saxophone-with-xak-bjerken-piano
Saturday, Feb. 25, at 7:30 p.m.
Horowitz Visual and Performing Arts Center at Howard Community College
10901 Little Patuxent Parkway
Columbia, MD 21044
Event Contact
410-997-2324
Event Details
Saturday, February 25, 2023, 7:30 PM – 9:00 PM
410-997-2324
Location
Add Event To Your Calendar