988: Transforming Our Crisis Response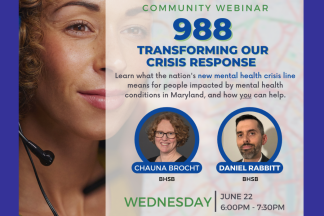 Join NAMI Carroll County, NAMI Howard County and NAMI Metropolitan Baltimore to discuss efforts to transform our crisis response system for behavioral health. 988 will be the new three-digit number that will route callers to the National Suicide Prevention Lifeline. It will be available to everyone across the United States starting on July 16, 2022.
When people call, text, or chat 988, they will be connected to trained counselors that are part of the existing National Suicide Prevention Lifeline network, as well as local mental health resources and support systems.
Learn about what this means for our community here in Baltimore, and how YOU can help raise awareness from Behavioral Health Systems Baltimore Experts Daniel Rabbitt and Chauna Brocht when you join our webinar on June 22nd, 2022.
Register here: https://us02web.zoom.us/webinar/register/WN_HQh7Fa_MSMGT8FoxZ1pigw
Event Contact
Event Details
Wednesday, June 22, 2022, 6:00 PM – 7:30 PM
Free
Add Event To Your Calendar