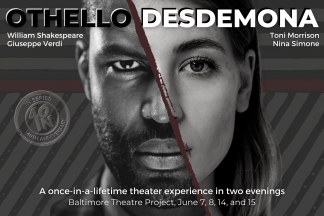 A once-in-a-lifetime theater experience, formed of two parts divided over two evenings! On the first evening, audiences experience an audacious reimagining of Verdi and Shakespeare in an all-new English poetic treatment by Andrew Albin, featuring the searing images of British visual artist Keith Piper and new musical "sea-interludes" composed and performed by Matthew Evan Taylor.
Audiences return the second evening for a reading of Toni Morrison's shattering and meditative play Desdemona interwoven with the music of the immortal Nina Simone, featuring world-renowned artist Claron McFadden. The work comes to life within a sculpture installation by celebrated visual artist Maya Freelon. Remarkable and multifaceted artist Maribeth Diggle takes the role of Desdemona in both evenings.
Event Contact
Cara Schaefer
2406886794
Event Details
Repeats weekly Monday and Tuesday -- until Thursday June 16, 2022.
410-752-8558
Location
Add Event To Your Calendar