Baltimore Gamer Symphony Orchestra Presents: Console Wars!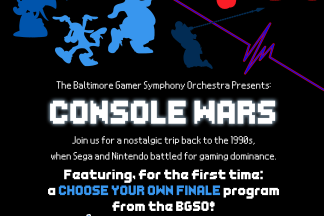 Are you someone who preferred to "play with power" on a Super Nintendo? Or did you simply believe that "Genesis does what Nintendon't?"
No matter where your allegiances may lie, there's something for you on the BGSO's Spring 2022 program.
This nostalgic trip to the 1990s rivalry between Sega and Nintendo will touch on some of the most iconic games and franchises of all time, including Street Fighter, Mortal Kombat, EarthBound, Phantasy Star - and, of course, Mario and Sonic.
Make sure you're prepared to pick a side - this is our first CHOOSE YOUR OWN FINALE program!
Over the course of the show, you'll vote with your dollars over who YOU think should win the Console Wars: Sega or Nintendo. Whichever box has more money in it by the end of the night will influence the BGSO's secret finale piece, and all proceeds raised will go directly to benefit the orchestra!
We can't wait to see you at the Baltimore War Memorial, located at 101 N. Gay Street in downtown Baltimore!
This is a FREE SHOW, with no advance tickets required! We do recommend that you bring cash if you intend to participate in the CHOOSE YOUR OWN FINALE aspect of this program. We will have digital donation options available, however.
Please note: MASKS ARE REQUIRED INSIDE VENUE AT ALL TIMES. We will have masks available for free at the door for anyone who forgets theirs at home. Thank you for understanding!
Event Contact
Carrie Wood
4104995823
Event Details
Saturday, June 11, 2022, 12:30 PM – 3:00 PM
Free
Location
Add Event To Your Calendar