Donnie: Welcome To The Colored Section (20th Anniversary Celebration) w/ Dj John Murph & DJ Daz-I-Kue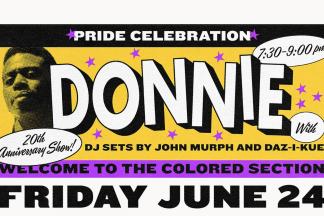 Rare indeed is the album that's both of its time and timeless—the recording that perfectly captures the mood of the moment it was birthed in, yet remains as fresh and relevant decades after its release. Marvin Gaye's What's Going On, which celebrated its 50th-anniversary last month, is perhaps the most iconic example; Donny Hathaway's stunning 1970 debut Everything Is Everything and Stevie Wonder's 1976 masterpiece Songs in the Key of Life are also part of this select club. And so is Donnie's lesser-known but equally powerful The Colored Section.
Originally recorded and released in 2002, in the immediate wake of 9/11 and the run-up to the Iraq War,The Colored Section's soulful meditations on Black history and identity, racism, consumerism, violence, spirituality, self-empowerment, and gay love still sound as vibrant, vital, and pertinent as-if they were waxed yesterday. The songs take clear-eyed, open-hearted aim at issues that, for better or worse, we're all still grappling with here in the third decade of the 21st century.
Suggested Dress Code: Superfly & Fabulous
Stay after this show for the late-night show 'Late Soul Karaoke with Donnie' at 9:30PM
Subscription ticket $30 for both shows.
Event Contact
Event Details
Friday, June 24, 2022, 7:30 PM – 9:00 PM
Location
Add Event To Your Calendar