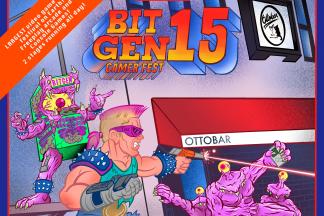 In the year 2022XX Bit Gen returns fully upgraded with a mega charged arm cannon of 17 eclectic video game-inspired musical acts from across the country! Taking over both levels of the Ottobar, Bit Gen XV offers a relentless VGM concert adventure for those brave enough to suit up and test their might. Power up with video game-themed cocktails or an ice-cold drink to endure the focused laser blast of performances or sharpen your skills by setting a high score on a curated offering of console and arcade classics, all on free play. Bit Gen Gamer Fest XV, do YOU have the power?
Questions? Contact us at [email protected]
LAME GENIE
MASTER SWORD
KNIGHT OF THE ROUND
SUPER MADNES
COWABUNGA PIZZA TIME
METROID METAL
STEEL SAMURAI
WRECK THE SYSTEM
GARBAGE MASHER
RANDOM BATTLES
SHREDNOBI
QUICKSAVE
VIKING GUITAR
WATCH OUT FOR SNAKES
CLOSE TO GOOD
WASD
SUPER THRASH BROS.
AEOXIS
Event Contact
Tyler Merchant
3015145836
Event Details
Saturday, July 30, 2022, 12:00 AM – Sunday, July 31, 2022, 12:00 AM
3015145836
Location
Add Event To Your Calendar