Gilded Lily Burlesque presents Instrumental Tease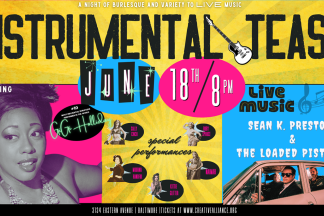 An evening with the best burlesque, variety, and music our local Baltimore scene has to offer!
LIVE music by Sean K. Preston and the Loaded Pistols!
Immerse yourself in acts tease to the LIVE music of local bands!
Witness sensational variety acts!
Enjoy being transported to a bygone era!
Event Contact
Event Details
Saturday, June 18, 2022, 8:00 PM – 10:00 PM
Location
Add Event To Your Calendar