Late Night Soul Karaoke Live with Donnie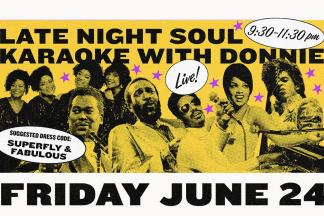 This event is for soul lovers, sangers, karaokers, the superfly, and the fabulous. Join Donnie as invites the best vocals in the room to step up on stage and sing with him at the first edition of Soul Karaoke. Expect a night of crowd-pleasing soul classics, laughs, and conversations with Donnie all wrapped up in a late-night dance party with DJ Daz I Que (Bugs In The Attic) and DJ John Murph (NPR, Washington Post).
The dress code for the evening will be Superfly or Fabulous, so dress to impress!
Show up before Karaoke for 'Donnie: Welcome To The Colored Section' at 7:30PM
Suggested Dress Code: Superfly & Fabulous
BAND
Craig Alston | Bass
Usani Pate | Keyboards
Spyda | Drums
Sol Edler | Backing Vocals
Rona Rawls | Backing Vocals
Event Contact
Event Details
Friday, June 24, 2022, 9:30 PM – 11:00 PM
Location
Add Event To Your Calendar