6th Annual Cherry Hill Arts & Music Waterfront Festival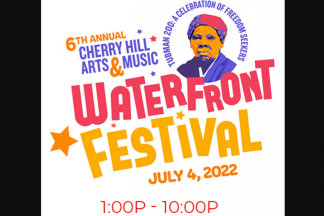 This free festival, in its sixth year, is expanding its vibrant, family friendly environment. Enjoy a day of local, regional and national music performances, children's activities, art making and experiences for all ages. Everyone from across the region is invited to celebrate Cherry Hill's historical and cultural significance on Independence Day.
Visit CherryHillFest.com for more details!
Event Contact
Event Details
Monday, July 4, 2022, 1:00 PM – 10:00 PM
Free
Location
Add Event To Your Calendar