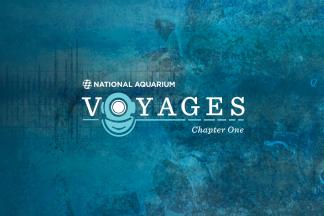 At the intersection of art and science lies Voyages, an original immersive event series at the National Aquarium that inspires connection to nature and celebrates all things Baltimore. At Voyages: Chapter 1, voyagers will embark on an audio-focused tour of the National Aquarium's exhibits, listening to original soundscape tracks composed by local beatboxer, vocal percussionist and breath artist Shodekeh.
This audio is inspired by Shodekeh's extensive research from the months he spent in the Aquarium exploring the topics of biodiversity and animal communication as well as his conversations with experts within our walls and in the field, including our featured scientist for the event, Ashakur Rahaman of the Cornell Lab of Ornithology.
Following the immersive audio tour in the Aquarium's Pier 3 building, voyagers will make their way to Pier 4 for an after party featuring a live DJ set from Baltimore-based musician and producer Wendel Patrick, as well as local vendors serving up some of the best of the Baltimore food scene.
This is where art and science meet. This is a one-of-a-kind celebration of all things Baltimore and the connection we share with the natural world. This is the Aquarium like you've never experienced it before. This is Voyages. Are you ready to embark on a journey into the deep?
Event Contact
Lindsey Rowell
410-576-3833
Event Details
Thursday, July 21, 2022, 7:00 PM – 11:00 PM
Location
Add Event To Your Calendar