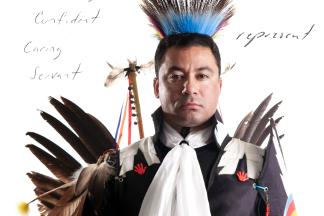 n exhibition presented by Joy Davis, Creative Alliance's new Visual Arts Director entitled We Are Present. Explore the multitude of art production and craft in what is currently considered the Maryland, Delaware, and DC metro areas. This exhibition is a launchpad to acknowledge and celebrate the varying experiences and stories of Indigenous individuals.
Why do we not inquire about our interactions with Indigenous people in art spaces? Why are indigenous individuals, tribes, and communities presented as lost civilizations instead of present on this land? The salon-style exhibition showcases craft, photography, illustration, performance, and other mediums that are beyond the preconceived notions of our production in Indigenous and native contexts.
Featuring work by: Denise Bright Dove Dunkley, Roberto Dyea (Tsi Yoo Nah), Jennifer Folayan, Ashley Minner, Dare Turner, Raine Valentine, Penny Gamble Williams
Opening: MAY 21 | 6-9PM
On View: SAT MAT 21 - SUN JUL 3
Open: Saturday & Sunday Noon-6PM
View Online: creativealliance-onview.org
View In-Person: Creative Alliance is open to the public on Saturday's & Sunday's from Noon-5pm (view our COVID policy here)
About the Artists:
Roberto Dyea (Tsi YOO Nah)
Guwadzi!
Do he nu meh, Tsi YOO Nah. K'a wai ka meh stah, qui-ah wash chi stah.
Hello! How are you! My name is Roberto Max Dyea (Tsi YOO Nah); I'm a tribal citizen of the Pueblo of Laguna, Mesita. I came from a long way home called Barstow, California. I consider myself a passionate Indigenous illustrator of Manga infused with Pueblo of Laguna pottery designs. I love to read Manga because there were stories that truly inspired me to create pieces that connect to future Indigenous art. From time to time, I think about scenarios of what Indigenous Manga characters would like in the 21st century. This scenario project, Rage Against Mayhem, began in 2018 located in Redlands, California. 
While I continue to nurture a deep connection to my tribe, my ultimate intention as an Indigenous artist is to have a meaningful interaction with the audience through my Manga. My preferred mediums are ink, graphic, and colored markers. I then render my work in Adobe Photoshop and Procreate. I continuously seek to improve my drawings through experimentation with various line weights and forms, stencil techniques, and 2-D expressions of speed, time, and movement. As of now, my dream is to have my name echo throughout the public and cities. I still plan to keep moving forward along with my loved ones and the culture of my people. 
Denise Bright Dove Dunkley is an award-winning Master Artisan and Educator of Nanticoke Lenni-Lenape culture.A member of the Nanticoke Lenni-Lenape Tribal Nation of New Jersey, she actively educates other members and the public on Nanticoke Lenni-Lenape culture; past and present. For 25 years, Denise has educated the public about the cultural basis of her pieces at Native, cultural related, and art celebrations such as, but not limited to:
University of Penn Museum Native Voices Exhibit - 2013 - present
New Jersey City University- Multicultural Keynote Speaker - Fall 2017
Opening Speaker, NASPA (National Association of Student Personnel Administrators) Conference - Summer 2018
Nanticoke Pow-Wow
Philadelphia Mural Arts Climate Justice Initiative Consultant/Public Liaison - Summer 2021 - present
Georgetown University Pow-Wow
Wheaton Arts Festival and Cultural Programs - juried
Schemitzun Green Corn Festival- juried
Somerset County Cultural and Heritage Commission, C&H Gallery "Welcome Neighbor: Sharing Cultural Art Traditions" 350th Anniversary
​Indigenous People's Day, Philadelphia
Denise is passionate about Environmental/Climate Change Activism and MMIW (Missing Murdered Indigenous Women) Awareness. As a current law student at the University of Oklahoma College of Law, Masters of Legal Studies, Indigenous Peoples Law program, she will broaden her reach of education and awareness to assist with securing the inherent rights of all Indigenous peoples.
Email: [email protected] | Instagram: @denisebrightdove
Ashley Minner is a community-based visual artist from Baltimore, Maryland, and an enrolled member of the Lumbee Tribe of North Carolina. She earned her MFA ('11) and MA ('07) in Community Arts from Maryland Institute College of Art and her PhD ('20) in American Studies from the University of Maryland College Park. In addition to maintaining her practice as a community-based visual artist, she works as an Assistant Curator for History and Culture at the Smithsonian National Museum of the American Indian in Washington, D.C.
Dare Turner is an enrolled member of the Yurok Tribe of California, the Assistant Curator of Indigenous Arts of the Americas at the Baltimore Museum of Art, and a faculty member in MICA's Graphic Design department where she teaches decolonized design. Educated at Stanford University and Bard Graduate Center, her work examines the intersection of indigeneity, the arts, and design. Dare comes from a long line of artists and finds inspiration in artworks crafted by her great grandmother who was a master basket weaver. She loves working with handspun naturally dyed fibers and spends time every summer in upstate New York at her mentor's dye garden and fiber studio.
Penny Gamble Williams was born and raised in Providence, Rhode Island. Her mother was an artist, her father a musician, and her grandmother a pianist and singer. Penny was exposed to and taught the basics in drawing and design by her mother who was a Rhode Island School of Design graduate. One important element in the visual arts that her mother emphasized was observing the beauty of nature and taking in everything within the surroundings. Penny involved herself in music, dance, and writing delving deeper into her visual art form. She attended the Rhode Island School of Design and studied with several established artists in Rhode Island. Penny left Providence and continued her studies at the Corcoran School of Art in Washington, DC, and Maryland College of Art and Design. Penny creates with acrylic paint, ink, oil crayon, and found objects. Her form of expression developed and she began using a variety of elements to create moods. Color, form, and texture are incorporated in her collages and paintings.
There is a running theme in many of her creations that reflect her Wampanoag/Chappaquiddick, of Massachusetts, and Afro-American heritage. She makes jewelry and designs pouches and handbags made with elk, deerskin, beads, bone, and feathers. The pen and ink compositions are subtle yet strong with fine lines and detailed designs integrating cross-cultural themes of Indigenous people. The paintings are generally a combination of mixed media materials. Penny does not like being restricted in her work and believes that going with the flow of spirit and energy allows her to get to the truth of what she needs to express. Call it ethnic free form abstract realism with elements of nature if you like and enjoy the experience and have fun.
Penny has exhibited her work for over 45 years throughout New England, and the Mid-Atlantic. She conducts "Spirit Art" sessions for people of all ages willing to experiment with various art materials and release the creative energy within.
Event Contact
Joy David
Event Details
Saturday, May 21, 2022, 12:00 PM – Sunday, July 3, 2022, 6:00 PM
Free
Location
Add Event To Your Calendar