Fools and Madmen's Julius Caesar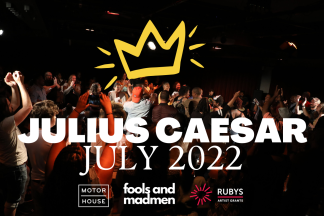 A hip-hop adaptation of Julius Caesar, written and adapted by Baltimore artists Joshua C. Thomas and Caitlin Carbone Hernandez and directed by Mari Andrea Travis. Inspired partly by the film Moonlight, our adaptation focuses on Brutus and Cassius' relationship, showing a male friendship as complex and intimate to challenge the idea of Roman stoicism as a pillar of masculinity.
Cast:
JC Payne - Brutus
Quincy Vicks - Cassius
Noah Silas - Caesar
Brandon Rashad Butts - Antony
Lauren Jackson - Portia/Soothsayer/Octavius
Jha'Neal Blue - Calpurnia/Lepidus
Adrian Graham-Chesnavage - Decius/Cinna the Poet
Tyrel Brown - Cinna
Performances Dates/Times:
Friday, July 8 - 8:00pm
Saturday, July 9 - 8:00pm
Sunday, July 10 - 2:00pm
Friday, July 15 - 8:00pm
Saturday, July 16 - 8:00pm
Sunday July 17 - 2:00pm
This project is supported by a 2019 Rubys Artist Grant, which is a program of the Robert W. Deutsch Foundation. https://www.rwdfoundation.org
About Us:Fools and Madmen is a series of mobile hip hop adaptations of Shakespeare's plays, touring Baltimore City Schools and communities. Our goal is to bridge hip hop and classical theatre culturally and artistically, and to combat racial disparity in classical theatre. We believe that Shakespeare's stories and characters are for everyone to access, and hope to break the perception that they belong only to one audience or culture. Our plays integrate Shakespearean text with original hip hop songs, creating a lyrical and rhythmic mash-up of classical and modern language, of poetry and music. Performed in the round, scored by live musicians, by an ensemble of BIPOC artists, our productions show that the only thing separating Hip Hop and Shakespeare as artforms are the voices and experiences of the people telling the stories.
Learn more about us:
Event Contact
Caitlin Hernandez
Event Details
Friday, July 8, 2022, 8:00 PM – 9:30 PM
Saturday, July 9, 2022, 8:00 PM – 9:30 PM
Sunday, July 10, 2022, 2:00 PM – 3:30 PM
Friday, July 15, 2022, 8:00 PM – 9:30 PM
Saturday, July 16, 2022, 8:00 PM – 9:30 PM
Sunday, July 17, 2022, 2:00 PM – 3:30 PM
Location
Add Event To Your Calendar