The Truth In This Art Presents: Movie Night At Motor House - The Last Dragon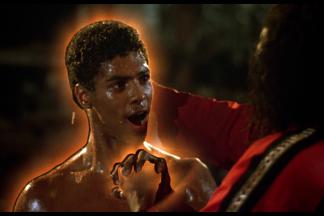 Rob Lee of The Truth In This Art podcast wants to celebrate the films with a connection to Baltimore & cult classics.
About this event
The Truth In This Art Presents: Movie Night At Motor House - The Last Dragon.
Join us on Thursday, July 7th at 730 pm ET for a screening of The Last Dragon.
PLOT
In New York City, Leroy Green (also known as "Bruce Leeroy") has dreams of becoming a great martial artist like his idol Bruce Lee. His master explains that he has reached the final level of martial arts accomplishment known as "The Last Dragon." Martial artists who reach this final level are said to be able to concentrate such mystical energy into their hands that they begin to glow. Only a true martial arts master would be able to exhibit "The Glow" over his entire body. Leroy doesn't fully understand and, in possession of a medal supposedly belonging to Bruce Lee, Leroy embarks upon a spiritual journey to find Master Sum Dum Goy, whom his master claims can help Leroy unlock the power of "The Glow."
Another martial artist, Sho'nuff (also known as "The Shogun of Harlem") sees Leroy as the only obstacle to being acknowledged as the true master of martial arts. When Leroy refuses to fight him, a furious Sho'nuff attempts to menace Leroy into accepting his challenge. Accompanied by his minions Crunch, Beast, and Cyclone, Sho'nuff barges into Leroy's martial arts school. The gang assaults Johnny Yu, one of Leroy's students, demanding that Leroy bow before Sho'nuff. Finally, Sho'nuff and company ransack the Green family's pizza restaurant.
Meanwhile, video arcade mogul Eddie Arkadian sends his men to kidnap local VJ Laura Charles, owner of the "7th Heaven" studio, where she films a TV series similar to Soul Train. Eddie hopes to get several trashy music videos he has produced starring his girlfriend Angela Viracco featured on Laura's show. The kidnap attempt is thwarted by Leroy who easily fends off the thugs. He loses his medal during the struggle, which Laura recovers. Later, Leroy witnesses Laura being kidnapped by Arkadian's brutish henchman Rock. A clue left behind reveals that the kidnappers work for Eddie Arkadian Productions.
Laura refuses to promote Angela's video on her program, but as Arkadian's men prepare to coerce her, Leroy suddenly bursts into the room clothed as a Ninja and rescues Laura once again. Back at her apartment, Laura gratefully returns Leroy's medal. Consumed with vengeance, Arkadian hires Sho'nuff to defeat Leroy and takes control of the 7th Heaven studio, capturing Laura and Leroy's younger brother, Richie, who has snuck in hoping to woo Laura.
Posing as a pizza delivery man, Leroy manages to infiltrate the assumed lair of Master Sum Dum Goy within a fortune cookie factory, but is shocked to discover that the "Master" is only a computer churning out cookie fortunes. Leroy consults his former master for answers, but his master suggests that Leroy has known the answers all along.
Not wanting anyone to get hurt in the process of achieving her stardom, Angela leaves Arkadian and asks Johnny to warn Leroy about his plan. As Leroy returns to 7th Heaven, he is ambushed by an army of violent thugs hired by Arkadian. Leroy's students, led by Johnny, charge into the studio to even the odds. Using Laura as bait, Eddie lures Leroy to a dilapidated building where he finally faces off against Sho'nuff. During the battle, Sho'nuff reveals his ability to use "The Glow," his hands pulsating with a red aura, and beats Leroy viciously before attempting to force him to acknowledge Sho'nuff as "The Master." As recent events flash before Leroy's eyes, he realizes that his former Master was correct and that everything he needed to achieve the "Final Level" was within him all along. His entire body bathed in the sublime golden light of "The Glow," Leroy uses his newfound power to defeat Sho'nuff.
Arkadian appears and fires a single bullet which Leroy catches between his teeth before detaining Arkadian for the police. Laura and Leroy are reunited at the studio where the two kiss.
About Rob Lee of The Truth In This Art
Rob Lee is the host and creator of The Truth In This Art. The Truth In This Art is a podcast interview series supporting vibrancy and development of Baltimore & beyond's arts and culture. Guests on the The Truth In This Art include photographer & activist Devin Allen, President and General Manager of WYPR LaFontaine E. Oliver and many of the best & brightest in and around Baltimore.
Event Contact
Event Details
Thursday, July 7, 2022, 7:30 PM – 9:30 PM
Location
Add Event To Your Calendar