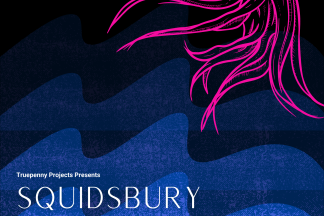 Truepenny Projects presents the world premier of Squidsbury by Chad Short. Directed by Tessara Morgan and featuring Maria Ortiz-Marquez, Shana Herndon, Dorian Elie, Bobby Henneberg, J P Hargrove, O'Malley Steuerman, Caitlin Weaver, Jess Rassp, Isaiah Harvey, and David Brasington.
Tina the squid is miserable in her life as a sea creature who is forced to wear a human suit by her neurotic husband, Tim. After revealing her squiddy self to her BFF Teensy, the two hatch a plot to get Tina the heck outta Squidsbury. Expect touching tentacles, diabolical spouses, ominous ticket takers, and more! This production is funded in part by MSAC.
Buy your tickets here: https://www.eventbrite.com/e/squidsbury-tickets-340961945357
Contract Truepenny Projects directly at [email protected] for questions!
***If you have a disability and want to attend this production, let us know! Just email us directly at [email protected] and we will try our best to accommodate***
Content Warning: This production includes profanity, talk of suicide, depression, sex, portrayals of violence, excessive drinking, and mild strobing.
COVID-19 Protocol:
Actors will be unmasked when onstage.
We are asking audiences to present their vaccination card OR a negative COVID-19 test at the door.
All audience members must be masked during the performance.
Event Contact
Tessara Morgan
507-458-2892
Event Details
Repeats weekly Sunday and Friday and Saturday 9 times.
507-458-2892
Location
Add Event To Your Calendar