Baltimore Old Time & Bluegrass Jam at R. House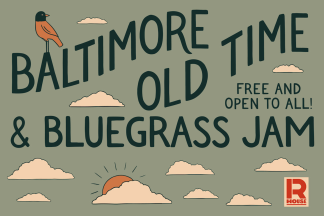 The legendary Baltimore Old Time & Bluegrass jam is coming to R. House for two evenings of acoustic stringband music! All are welcome to play along in the jam regardless of skill level or instrument. Even if you don't play, you can come to soak in the scene, listen to the music and grab a bite to eat from one of the ten food stalls or a drink from R. Bar. It's THE happening spot in town for food and community.
On Tuesday, August 16, Ken & Brad Kolodner will lead the Baltimore Old Time Jam from 7-10pm. The first hour of the jam will be a "slow jam" so anyone can hop in and play along at a moderate tempo. From 8-10pm, they'll kick up the tempo for the "fast jam." Imagine a sea of fiddles, banjos, guitars and more all swelling together in a chorus of joyous tunes!
On Tuesday, September 6, Alex Lacquement & Lucas Chohany will lead the Baltimore Bluegrass Jam from 7-10pm for a jam featuring bluegrass songs and instrumentals. Come with a song or two to lead - or just show up and jam along.
There is an abundance of free parking at R. House next to the space or caddy-corner in the police department parking lot (available to R. House patrons).
If all goes well, who knows -- this may become a weekly jam at R. House. Let's show the love to R. House for giving this a chance!
Best of all, the jam is FREE!
Event Contact
Alex Lacquement
7032012367
Event Details
Repeats monthly on the 6 of September 1 times.
7032012367
Free
Location
Add Event To Your Calendar