The Resonant Rogues at Black Cherry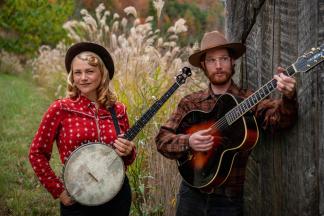 Don't miss the enchanting music of Appalachian Folk duo The Resonant Rogues
at Black Cherry Puppet Theater --1115 Hollins Street, Baltimore, MD 21223
Sunday, September 18, 2022
6:30 & 9:00pm
Doors open 1/2 hour before each showtime!
TICKETS AVAILABLE NOW! https://blackcherry.ticketspice.com/resonant-rogues-22
​(Masks & Covid Vaccination proof or negative test required)
"The Resonant Rogues' dark Appalachian folk paints a picture of their lives in the mountains of Western North Carolina and on the road. Anchored by the songwriting duo of Sparrow (banjo, accordion) and Keith Smith (guitar), the duo has traveled the byways and highways of America and crossed the oceans with instruments in tow. From riding freight trains to building their own homestead, the pair are no strangers to blazing unconventional trails. At once rooted and adventurous, each song tells a story of real experiences, friendships, and challenges."
To learn more about the Resonant Rogues and hear their music: https://theresonantrogues.com/ 
Event Contact
410-752-7272
Event Details
Sunday, September 18, 2022, 6:30 PM – 7:45 PM
Sunday, September 18, 2022, 9:00 PM – 10:15 PM
Location
Add Event To Your Calendar