Ceramic Color: the Full Spectrum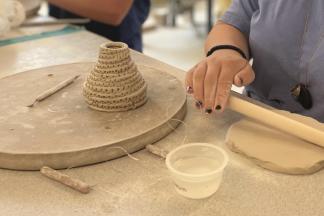 Ceramic color, What Is It? Where Is It? How Do I Get It? How Do I Use It?
In this 8-week class, participants will learn what produces color in clay, slips, underglazes, and glazes. From the earth comes the basics - oxides of metals, the source of all color. What happens then? Oxides are processed in multiple ways by for use by artists and industry. Where does the student or studio potter fit into this "manufacture", and how can the maker benefit? This session will not only provide technical information is a very understandable form, it will provide actual materials and hands on opportunities for participants to explore WHY and HOW to use ceramic color to advance ideas and creativity in one's personal work in clay. Class size will remain at reduced capacity for increased social distancing, masks indoors remain mandatory. Proof of vaccination required prior to 1st class.
Event Contact
Kayla Morgan
4435145197
Event Details
Friday, September 16, 2022, 10:00 AM – Friday, November 4, 2022, 1:00 PM
410.578.1919
Location
Add Event To Your Calendar