SHCS Discovery Series: Jasmine Pigott, tuba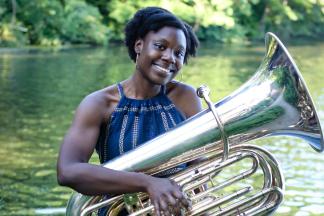 SATURDAY, JANUARY 28, 2023 | 3:00 PM
Jasmine Pigott, tuba (Winner of the 2022 Yale Gordon Competition)
Location: Baltimore Museum of Art
Jasmine Pigott
Jasmine "Jazzie" Pigott began to play the tuba at the age of ten after accidentally choosing the trombone and playing that for a year, and she quickly excelled. In 2016, Jasmine became the first Black woman to place in the International Leonard Falcone Tuba Student Competition. As a college junior in 2018, Jasmine was invited to be a solo artist on the "Promising Artists of the 21st Century" concert series tour in Costa Rica. There, she realized her true passion for performing for people of marginalized backgrounds. Since then, Jasmine has become an activist for increasing the diversity in the field of classical music. With this mission, she has participated in several research projects, performed concerts in marginalized communities, and developed performance-based projects and presentations. In February 2020, Jasmine was awarded the first prize in the Michigan State University Running Start Competition for her grant proposal to commission composers of color to write tuba pieces in Black music styles for her EP, Revolution: The Next Generation of Tuba Music. Jasmine is a co-founder and the historian for the Chromatic Brass Collective—an organization devoted to empowering women and non-binary people of color brass musicians.
Today, when she's not studying, Jasmine actively performs, composes, writes, and researches with a goal to inspire the next generation of Black musicians. Outside of her musical endeavors, Jasmine enjoys a career as a certified personal trainer and runs a health and wellness blog and podcast, Harmony and Healing, to empower musicians and Black people to incorporate fitness into their lives.
Jasmine holds Bachelor of Music degrees in music education and tuba performance from Ithaca College and a Master of Music degree in tuba performance from Michigan State University. She is currently attending the Peabody Conservatory at Johns Hopkins University for her Doctor of Musical Arts degree in tuba performance. Her teachers include Velvet Brown, Phil Sinder, David Earll, and Justin Benavidez. Her website is jasminepigott.com.
Event Contact
Event Details
Saturday, January 28, 2023, 5:30 PM – 8:30 PM
Free
Location
Add Event To Your Calendar