24th Annual High Zero Festival of Experimental Improvised Music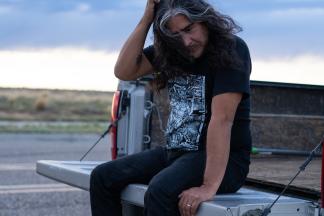 FOR IMMEDIATE RELEASE
High Zero's 24th Festival of Experimental Improvised Music Takes Place Sept. 15-18 at Baltimore Theatre Project; Artists Include 2022 Pulitzer Winner Raven Chacon
Baltimore - The 24th annual High Zero Festival of Experimental Improvised Music kicks off on Thursday, Sept. 15 and continues through Sunday, Sept. 18. The 22 featured performers include 2022 Pulitzer-winning composer Raven Chacon.
High Zero's unusual music festival presents exclusively improvised performances. Further, the performer roster comprises 22 individual artists – 11 international and 11 from the Baltimore area – who are combined by the festival's curatorial team into fresh ensembles each night, prioritizing combinations that have never occurred before. (See below for link to full performer list.)
Performers include sound artists, experimental musicians, dancers, and performance artists. Some are classically trained, some in the jazz tradition, and still others are entirely self-taught. Some artists perform using their own invented instruments or techniques.
High Zero Foundation has expanded its programming in recent years, bringing high-profile artists to the Red Room, the year-round performance space operated by the group, as well as launching the Diffusion Festival of multi-channel electroacoustic music and continuing to mount the Worlds in Collusion festival as part of Baltimore's Artscape.
High Zero Foundation has weathered COVID shutdowns through collaborative streamed presentations with like-minded organizations across the U.S. as well as its own streamed concert series, Red Room in Your Room. The festival's devoted local fan base has welcomed hundreds of new international fans that discovered High Zero's thrillingly unusual programming via Twitch.
High Zero has proven time and again that radical music can be popular, and has had a palpable effect on the cultural scene in Baltimore. The festival highlights Baltimore as home to highly unusual, risk-taking, and adventurous artists and productions.
///
HIGH ZERO 2021 FACT SHEET
PRESS CONTACT: CK Barlow <

[email protected]

>, 505-463-8790
CONCERTS: Thursday, Sept. 15 through Sunday, Sept. 18, 2022
VENUE: Baltimore Theatre Project, 45 West Preston St., Baltimore, MD 21201
7:30pm doors / 8:30pm shows
Tickets: $60 festival pass (all four nights); $20/$10 single-night ticket – discount for students, seniors, and artists at the door only.
HI-RES IMAGES OF PERFORMERS: https://highzero.org/2022_site/press/
SELECT VIDEO FROM PAST FESTIVALS
https://www.youtube.com/watch?v=5nUFAQxmO58
https://www.youtube.com/watch?v=h3kQ__Rw1Ok
PRESS QUOTES
They aren't just playing outside the box; the box is set on fire, its ashes mixed with water, the subsequent clay is shaped into something just outside the periphery of recognizable. … High Zero is an exhausting, invaluable gem of a performance series that enriches anyone who experiences it, whether they bring earplugs or not. – BmoreArt http://www.bmoreart.com/2016/10/improvisation-in-real-time.html 
Some of the most intense new music being made anywhere, on everything from oboes and one-of-a-kind instruments to the human body itself... unforgettable performances. – The Washington Post
A fertile laboratory of musical possibility without equal. – Signal to Noise Magazine
[W]hat the members and guests of High Zero distilled from the ether on Wednesday night exceeded all expectations of what might have been, with an undulating vibrancy that brought to life what could have been, like some rare or unstable element that flickered in and out of existence only for an instant. - I Care If You Listen https://www.icareifyoulisten.com/2018/10/high-zero-20th-anniversary-tour...
High Zero 2017 Michael Gayle, Jamal Moore, M.C. Schmidt Every festival, Sunday is the night of randomization. In 2017, one randomly drawn combo comprised Michael Gayle, Jamal Moore and M.C. Schmidt. None had performed together before this moment.
Event Contact
CK Barlow
5054638790
Event Details
Repeats daily 4 times.
505-463-8790
Location
Add Event To Your Calendar
What Others Are Saying
They aren't just playing outside the box; the box is set on fire, its ashes mixed with water, the subsequent clay is shaped into something just outside the periphery of recognizable. … High Zero is an exhausting, invaluable gem of a performance series that enriches anyone who experiences it, whether they bring earplugs or not. – BmoreArt http://www.bmoreart.com/2016/10/improvisation-in-real-time.html  Some of the most intense new music being made anywhere, on everything from oboes and one-of-a-kind instruments to the human body itself... unforgettable performances. – The Washington Post  A fertile laboratory of musical possibility without equal. – Signal to Noise Magazine  [W]hat the members and guests of High Zero distilled from the ether on Wednesday night exceeded all expectations of what might have been, with an undulating vibrancy that brought to life what could have been, like some rare or unstable element that flickered in and out of existence only for an instant. - I Care If You Listen https://www.icareifyoulisten.com/2018/10/high-zero-20th-anniversary-tour-improvised-experimental-music-roulette/