Station North Art Walk: Spotlight on Greenmount West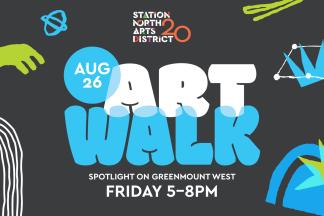 Join us for the Station North Art Walk: Spotlight on Greenmount West featuring the new Art Walk Maker Market, exhibits, performances, open studios, and restaurant specials.
Friday, August 26th, 5:00 - 8:00PM
~all events are 5:00 - 8:00PM unless otherwise noted~
Pick up a map at Open Works and create your own self-guided tour of the Station North Arts District with a special spotlight on the Greenmount West neighborhood. The event is free, we just ask that you register for a ticket so we can track attendance, and share email updates and specials.
New this month! We're partnering with Open Works to feature the Art Walk Maker Mart with local arts and maker vendors, food, and music in the Open Works parking lot.
This year marks twenty years of Station North, and we're celebrating all summer long on the final Friday of each month. Check out a preview of the participating venues on Aug. 26th, and save the date for our final Art Walk of the season: Fri, Sept 30th.
Follow us @stationnorth on IG/FB for a map, venue highlights, and more!
Galleries / Venues
Area 405 | 405 W Oliver
Artist & Craftsman Supply | 137 W North Ave
Baltimore Jewelry Center | 10 E North Ave, Suite 130
Blue Light Junction | 209 McAllister St
The Cork Factory | 302 E. Federal St
Gallery CA | 440 E. Oliver St
Hancock Solar Gallery @ Nelson Kohl | 20 E. Lanvale St
Motor House | 120 W. North Avenue
Open Works | 1400 Greenmount Ave
Station North Books | 34 E. Lanvale St
Station North Tool Library | 417 E. Oliver St
True Vine Record Shop | 1827 N. Charles St
Food / Drink
Cajou Creamery | Open Works Parking Lot
Guilford Hall Brewery | 1611 Guilford Ave.
Joe Squared | 33 W. North Ave
Ta Ta Tacos | Open Works Parking Lot
Event Contact
Abby Becker
410-929-4362
Event Details
Friday, August 26, 2022, 5:00 PM – 8:00 PM
Location
Add Event To Your Calendar