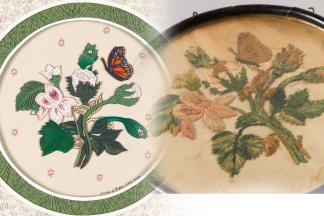 Presented in partnership with EC250 Inc. and the Howard County Historical Society, this commemorative group exhibit celebrates 250 years of Ellicott City by showcasing 18 local artists' responses to objects from the artifact collection of the Howard County Historical Society. Featuring work by Nancy Berson, Linda Joy Burke, Caroline Creeden, Stephanie Dyke, Jennifer Eidson, Riley Goodman, Elli Hernandez, Jennifer Hudson, Nishita Jain, Tarneeja Makol, Sookkyung Park, Lisa Scarbath, Jereme Scott, Jay Shovan, Mary Jo Tydlacka, Karen Wallace, David Zuccarini, and Bonnie Zuckerman.
Exhibit runs August 19 to September 24, 2022, with a free reception on September 16 from 6-8pm. Gallery hours: Mon-Fri 10am-8pm, Sat 10am-4pm, Sun 12-4pm. Closed Labor Day, September 5.
Event Contact
Annie Braunschweig
410-313-2787
Event Details
Repeats weekly Monday and Tuesday and Wednesday and Thursday and Friday -- until Friday September 23, 2022 -- except Monday September 5, 2022.
Repeats weekly Saturday -- until Saturday September 24, 2022.
Repeats weekly Sunday -- until Sunday September 18, 2022.
Free
Location
Add Event To Your Calendar