PAW Patrol Live! "The Great Pirate Adventure"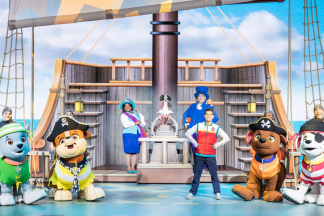 PAW Patrol Live! is back on a roll… IN PERSON AND LIVE ON STAGE! Ryder and your favorite pups have been working hard to get back on the road and they are ready to roll.
Do not miss this PAWsome opportunity to see the whole pack as they set sail in a pirate themed live touring stage performance. Join them for this adventure-filled high-seas mission aboard the Sea Patroller as they save their mateys, Carlos and Tracker, and find some pirate treasure too! We hope you're as excited as we arrr!
Purchase a VIP Package and become a VIP- Very Important Pup! The VIP package includes a premium seat and exclusive Meet & Greet with PAW Patrol characters after the show. Each adult & child, regardless of age, in a group must have a VIP ticket.
Event Contact
Guest Services
800.343.3103
Event Details
Saturday, December 10, 2022, 10:00 AM – 12:00 PM
Saturday, December 10, 2022, 2:00 PM – 4:00 PM
Sunday, December 11, 2022, 12:00 PM – 2:00 PM
Sunday, December 11, 2022, 4:00 PM – 6:00 PM
800-343-3103
Location
Add Event To Your Calendar