Somewhere Between Chaos and Silence. Vanna Ramirez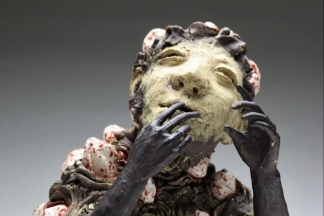 Somewhere Between Chaos and Silence reveals the visceral experience of human emotions caught in the flux of conflict, confusion and duality. Constant struggles of the self are physically manifested in an outward surreal and abstracted melding of the body and a soul overcome. We coexist with the haunting growths of our turmoil worn as skin, that which is meant for protection also records our pain. Through my unconventional incorporation of stoneware, porcelain and light, the sculptures evolve as a work in progress, a glimpse into my explorations with clay, the figure and reflections of the self.
Event Contact
410.578.1919
Event Details
Repeats weekly Tuesday and Wednesday and Thursday and Friday and Saturday -- until Saturday November 5, 2022.
Free
Location
Add Event To Your Calendar