Oletha DeVane: Spectrum of Light and Spirit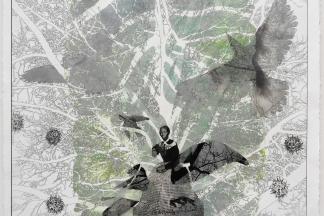 UMBC's Center for Art, Design and Visual Culture presents Oletha DeVane: Spectrum of Light and Spirit, on display from September 22 through December 17.
Featuring nearly 100 artworks, the exhibition is the first retrospective of celebrated Maryland artist Oletha DeVane, and traces the artist's extensive career, from her early paintings and works on paper to video artworks and interactive sculpture, including works on view for the first time.
A prolific artist, wayfinder and storyteller, DeVane has spent decades learning and making art about the most profound phenomena of our human condition: spirituality, mythology, and transformative experience, including experiences of hardship. Over the last five decades, as she traveled in Asia, Africa, and the Caribbean, she became inspired by the stories and characters she encountered. Her artwork brings the unexpected to light, while finding new nuances in the old and familiar, and surprising intersections among those cultures.
A highlight of the exhibition is a large-scale carved sculpture, Nkisi Woman-Universal Nkisi (2021–22), which will be activated over the course of the exhibition by visitors who are invited to add beads to its surface. The nkisi is a Kongo cultural figure invested with sacred energy, and this sculpture will catalyze communion and community-building. The work reflects DeVane's fascination with how materials convey meaning and reemerge as myths and memories.
The exhibition also celebrates Oletha DeVane's collaborative activities. Her long-standing collaboration with writer and media personality Tadia Rice, Beyond Bars: Prison Women Speak, will be updated for the exhibition in the form of new video works.
Oletha DeVane: Spectrum of Light and Spirit is organized by curator Lowery Stokes Sims.
Visitor Information
Admission is free. The CADVC is open Tuesday through Saturday, 10 a.m. – 5 p.m.
Please note that masks must be worn in the CADVC at all times. We appreciate your cooperation.
Parking is free during evening and weekend hours, and metered parking is available other times. Please visit here for directions and parking information.
Special Events
Thursday, September 22, 5 to 7 p.m. — Please join us for an Opening Reception.
Tuesday, September 27, 5 to 7 p.m. — Please join us for an "Art from Inside" panel discussion in association with the exhibition Prison Nation at the Albin O. Kuhn Library Gallery.
Thursday, October 6, 12 p.m., Saturday, October 8, 3 p.m., and Saturday, October 29, 3 p.m. — Periodic activations of Nkisi Woman-Universal Nkisi sculpture with guest facilitators. (Additional information forthcoming.)
Thursday, October 13, 4 to 6:30 p.m. — A College of Arts, Humanities and Social Sciences Colloquium Panel on Resilience will be followed by extended hours at the CADVC.
Thursday, December 8, 6 to 7:30 p.m. — Closing panel discussion at the CADVC. (Additional information forthcoming.)
Image: Oletha DeVane, Harriet the Raven, 2019, digital media, solar etching and graphite on paper, 30x40 inches. Photo by Mitro Hood.
Event Contact
Event Details
Repeats weekly Tuesday and Wednesday and Thursday and Friday and Saturday -- until Saturday December 17, 2022.
Free
Location
Add Event To Your Calendar