Spark: New Light Exhibition Opening Reception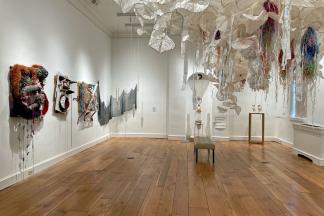 Explore the creative vision of 24 artists at Spark: New Light, presented by Towson University, UMBC, and PNC Bank, August 13 through September 25 at the Peale.
SPARK: New Light will ignite your imagination. Discover photographic time capsules and microscopic organisms that glow in the dark, investigate delicate bamboo paper sculptures and a post-apocalyptic future, learn about a Chinese-American who fought in the Civil War and the disappearance of Holland Island, and enjoy room after room of additional artworks.
Artists featured in this fifth annual family-friendly SPARK exhibition and related programming include Mark Burchick, Lynn Cazabon, Irene Chan, Grace Doyle, Adam Droneburg, Carrie Fucile, Alexandra Garove, Danielle Hawk, Fahmida Hossain, Ahlam Khamis, Jinyoung Koh, Diane Kuthy, Jenee Mateer, Kathy Marmor (with Penny Rheingans), Lisa Moren (with Tsvetan Bachvaroff, Dan Deacon, and Woody Lissauer), Kat Navarro, Timothy Nohe, Sookkyung Park, Corrie Francis Parks, Chris Peregoy, Foster Reynolds-Santiago, Lynn Tomlinson, and J. Yablonsky.
Special SPARK events include Window 26, a projection event curated by Kelley Bell, a photography workshop with Chris Peregoy, and performances by the Towson Percussion Ensemble, the UMBC Percussion Ensemble, and the Umbilicus ensemble.
SPARK: New Light is curated by Catherine Borg.
SPARK: New Light is made possible by a generous grant from PNC Bank.
Event Contact
Nancy Proctor
667-222-1814
Event Details
Wednesday, September 7, 2022, 5:00 PM – 8:00 PM
667-222-1814
Free
Location
Add Event To Your Calendar