Creative Confluence: South Asian Community Reflections, Connections, & Dialogue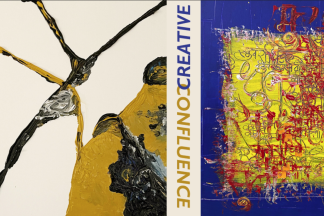 Creative Confluence: South Asian Community Reflections, Connections, and Dialogue
September 14 – December 17 (closed November 23-27)
Asian Arts Gallery, Center for the Arts, Towson University
1 Fine Arts Drive, Towson, MD 21204
Explore the rich array of creativity, cultures, and traditions expressed through the works of twenty-two South Asian artists from across the Greater Baltimore and Washington, DC area. Discover the intersecting and distinct experiences of these artists—with cultural roots in Afghanistan, Bangladesh, Barbados, India, Kenya, Pakistan, Tanzania, Trinidad and Tobago—who share their perspectives on lineage, self-identity, ideas of homeland, spiritual traditions, sensory experience, and connections to the natural world.
Opening Reception & Meet the Artists event Wednesday, September 14. 7:30pm; registration optional: bit.ly/aacc-sept14-confluence, suggested donation: $10.
*Special thanks to the Creative Confluence team for curating this season: Samia Mahbub Ahmad, Nadia Amdad, Ryan Artes, Shanthi Chandrasekar, Nilimma Devi, Ameena Fareeda, Harjant Gill, Farida Hughes, Anila Kumari, Shyama Kuver, Alif Laila, Neha Misra, Adrianna Morgan, Pratisha Pradhan, Rachana Saurabh, Priya Sekar, Manoj Singh, Jasmine Smith, Shobha Subramanian, Nimi Trehan, and Nikita Yogaraj.
Event Contact
Nerissa Paglinauan, Program Manager
410-704-5245
Event Details
Repeats weekly Monday and Tuesday and Wednesday and Thursday and Friday and Saturday -- until Saturday December 17, 2022 -- except Wednesday November 23, 2022, Thursday November 24, 2022, Friday November 25, 2022, Saturday November 26, 2022, Sunday November 27, 2022.
410-704-2807
Free
Location
Add Event To Your Calendar