BREATHTAKER: THE GROUNDBREAKING GRAPHIC NOVEL FROM CONCEPT TO COMICS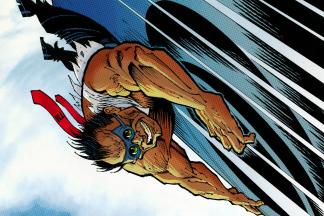 The Esther Prangley Rice Gallery is located in Peterson Hall at McDaniel College. Hours are Monday through Friday, 10 a.m.-4 p.m., and Saturday, noon-5 p.m. For more information, call 410-857-2595 or visit https://estherprangleyricegallery.com.  
McDaniel College serves as the premiere host of an exhibition featuring original works of art in conjunction with the remastered edition of Mark Wheatley and Marc Hempel's acclaimed graphic novel "Breathtaker." The exhibition, organized by the Norman Rockwell Museum, Stockbridge, Mass., includes more than 90 original works of art and explores the creative and physical processes undertaken during the original production of the "Breathtaker" comic in the 1990s, as well as how the work was re-adapted during the preparation stages for the Titan Comics re-release.
Event Contact
McDaniel College
410-857-2595
Event Details
Monday, August 22, 2022, 10:00 AM – Saturday, October 29, 2022, 4:00 PM
Free
Location
Add Event To Your Calendar