Crystal Moll Gallery presents 'Summer Plein Air Show' Closing Reception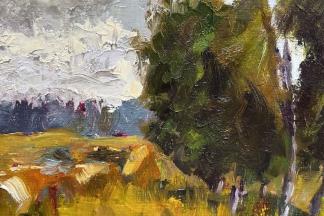 Join us for the last day of our '9th Annual Summer Plein Air Show' - take 1 last look at this fantastic show and meet some of the 40 exhibiting Plein Air painters.
Featured artists: Allison Swan, Amanda Milliner, Ann Crostic, Ann Schaefer, Anne Reder, Barbara Schatz, Beth Bathe, Carol Cowie, Carol McClees, Charles Newman, Chris Rapa, Christopher Best, Collin Cessna, Crystal Moll, Elizabeth Rhoades, Ellen Sinclair, Eva Rotolo, Gavin Bromell, Geraldine Pontius, Jane Knighton, Janice Kirsh, Jesse Buckles, Jim Rehak, Karen Winston-Levin, Kathleen Kotarba, Kristin Hill, Lissa Abrams, Lon Brauer, Lynn Mehta, Maggii Sarfaty, Mary Veiga, Michael Kotarba, Nancy Fine, Paul Bertholet, Shawn Costello, Therese Spadaro, Tim Kelly, Tom Ritchie, Vlad Duchev and Zhaobo Li.
View the show online - https://www.crystalmoll.com/current-exhibition-9th-annual-summer-plein-a...
Event Contact
Crystal Moll
443-759-4235
Event Details
Saturday, October 1, 2022, 4:00 PM – 6:00 PM
Free
Location
Add Event To Your Calendar