Women of the Book: The Spiritual Lives of Early Modern Women, 1450-1800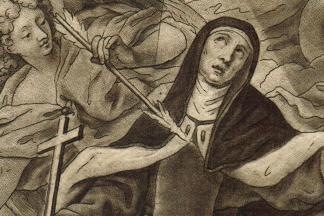 In 2017 the Johns Hopkins Sheridan Libraries began building the world's most comprehensive collection of rare books, manuscripts, and ephemera detailing the experiences of early modern women from the Renaissance to the Enlightenment.
Though the voices of women were largely absent from traditional historical sources, the Women of the Book Collection turns that problem on its head through its focus on extremely rare or unique sources of evidence of the institution of female monasticism—the world of nuns and convents dedicated to enlivening, sharing, and preserving the spiritual, intellectual, and interior lives of women for the wider world, in manuscript and in print.
This exhibition of approximately 100 treasures drawn from the collection paints the world of these holy women in living color—from psycho-spiritual autobiographers, bilocating nuns, rock-star status saints, ecstatic mystics, and female healers, to the hidden careers of women printers and engravers and miracle makers.
Please check our website prior to your visit as library hours may change.
Event Contact
JHU Sheridan Libraries Special Collections
667-208-6715
Event Details
Repeats weekly Monday and Tuesday and Wednesday -- until Tuesday January 31, 2023.
Repeats weekly Thursday -- until Tuesday January 31, 2023.
Repeats weekly Sunday -- until Tuesday January 31, 2023.
Free
Location
Add Event To Your Calendar