Photographing Bethlehem Steel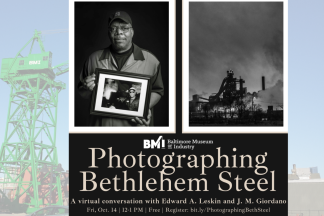 Hear from photographers Ed Leskin (based in Bethlehem, PA) and J.M. Giordano (based in Baltimore) about their work documenting steelmaking communities in the mid-Atlantic and around the world. Leskin's project "Images of Flesh and Steel" includes portraits of steelworkers in Maryland and Pennsylvania. Giordano's temporary exhibition Shuttered: Images from the Fall of Bethlehem Steel documents the changing landscape of Sparrows Point. This program is part of Steel Weekend programming hosted by the National Museum of Industrial History in Bethlehem, PA.
FREE for all audiences. On Zoom.
Event Contact
Event Details
Friday, October 14, 2022, 12:00 PM – 1:00 PM
Free
Location
Add Event To Your Calendar