The Sankofa Experience Exhibition at the Peale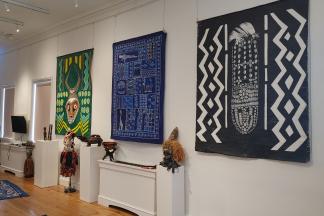 On Through January 15, 2023
At the Peale!
$15-$25
Open for special events and regular operating hours
Since 1989, Baltimore-based Sankofa Dance Theater has created world-class, authentic African art in the form of dance, music, and folkways for national and international audiences. The work of the Company is rooted in healing and bringing intercultural understanding to the global village while staying true to the definition of the word "Sankofa" which means to learn from the past in an effort to build for the future.
This immersive exhibition features a look back at the work of Sankofa Dance Theater, utilizing costumes, archival materials, historical footage, and built environments designed to transport visitors into the past, and into the future.
Special Events:
Friday, October 28, 7pm – 8pm: Artist and Curator Talk: Join Kibibi Ajanku, Founding Director of Sankofa Dance Theater, and curator David London for a conversation about Sankofa and the making of this exhibition.
Saturday, November 19, 1pm – 3pm: Sankofa Alive : Living models will activate the exhibition space for this one-off event featuring an entirely different way to experience the exhibition!
Saturday, December 3: 1pm and 2:30pm: Sankofa for Families: Join us for a special presentation and interactive drumming experience for families. Learn about some of the African traditions included in the exhibition and get hands on with drum and dance! This program is 45 minutes in length. Two identical programs offered this day at 1pm and 2:30pm.
Monday, December 26, 1pm – 4pm: Kwanzaa Celebration: Join members of the Sankofa Family for a special Kwanza Celebration within the exhibition.
Event Contact
Nancy Proctor
667-222-1814
Event Details
Friday, October 28, 2022, 3:00 PM – Sunday, January 15, 2023, 4:00 PM
667-222-1824
Location
Add Event To Your Calendar