2022-2023 Music at Evergreen Concert Series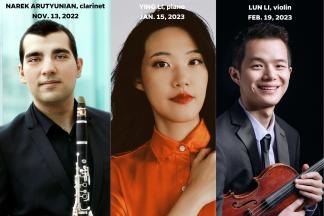 Evergreen Museum & Library's popular and eclectic Music at Evergreen concert series returns for its 69th season, presenting live music in the museum's stunning and historic Bakst Theatre.
The series opens on Sunday, November 13, with clarinetist Narek Arutyunian, an accomplished soloist who has performed with orchestras including The Boston Pops, Prague Radio Symphony, and the Kaliningrad Philharmonic. He will be joined by pianist Steven Beck and fellow clarinetist Alexander Fiterstein to play a program of works by Leonard Bernstein, Felix Mendelssohn, Paul Schoenfield, and Carl Maria von Weber.
On Sunday, January 15, the series continues with rising star pianist Ying Li. Li was the First Prize winner of the 2021 Young Concert Artists Susan Wadsworth International Auditions, as well as the Bridgehampton Chamber Music Festival Prize and the Tri-Institutional Noon Recitals Prize. She has performed with L'Accademia Orchestra del La Scala in Milan and was featured on WQXR's "Ein-kleine Birthday-musik," a free, all-Mozart concert livestreamed to celebrate the composer's 266th birthday.
The series concludes on Sunday, February 19, with violinist Lun Li, the John French Violin Chair at Young Concert Artists. Li is the past winner of the Young Concert Artists Susan Wadsworth International Auditions, the Paul A. Fish Memorial Prize, and the Buffalo Chamber Music Society Prize. He is a graduate of the Curtis Institute of Music and a current student at the Juilliard School with Catherine Cho and Joseph Lin.
All concerts begin at 2 p.m. Space is limited; advance tickets are required. These tickets are for ALL THREE performances. Tickets for individual concerts are available by clicking on the performer's name.
Event Contact
410-516-0341
Event Details
Sunday, November 13, 2022, 2:00 PM – 4:00 PM
Sunday, January 15, 2023, 2:00 PM – 4:00 PM
Sunday, February 19, 2023, 2:00 PM – 4:00 PM
Location
Add Event To Your Calendar