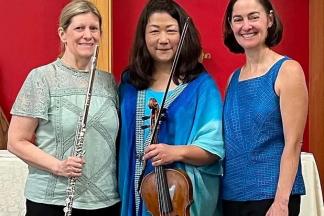 Beau Soir flute, viola, and harp trio
A potpourri of 18th to 21st century music
…with a dash of holiday cheer!
Theodore Dubois • Terzettino
George Philipp Telemann • Trio Sonata in B minor
Mélanie Hélène • Scenes de la Foret
Martyn Adams • Chasing Tale
Eduardo Argulo • The Autumn Messengers (commissioned for Beau Soir Trio)
…and Christmas holiday selections
High school students free. Younger children free with an adult.
Event Contact
Event Details
Sunday, December 11, 2022, 3:00 PM – 5:00 PM
Location
Add Event To Your Calendar