Aaron Siskind: Formations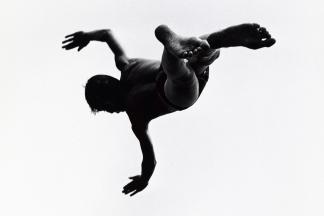 UMBC's Albin O. Kuhn Library Gallery presents the exhibition Aaron Siskind: Formations, on display from October 31 through March 12.
Aaron Siskind (American, 1903–1991) was one of the most influential figures in the development of photography as an art form during the twentieth century. This exhibition, drawn from UMBC's Photography Collections, traces the formation of this artist's unique photographic vision from early documentary works made in Harlem as a member of the New York Film and Photo League in the 1930s to his breakthrough explorations of abstraction in the 1940s and 1950s, which led to a sustained investigation of the camera's capacity to frame new visual forms. The 55 works on display represent every period of the artist's career, including architectural studies made on Martha's Vineyard, the exuberant series, Terrors and Pleasures of Levitation, featuring images of divers' bodies suspended in air, and impressions from his travels throughout Europe and Latin America. Through his photographs and his role as an educator, first at the Institute of Design at Illinois Institute of Technology in Chicago and later at the Rhode Island School of Design in Providence, Siskind made an indelible mark on the field, uncovering expressive possibilities from the raw material of reality.
Visitor Information
Admission is free.
Library Gallery hours:
Monday, Tuesday, Wednesday, Friday: 10 a.m. – 5 p.m.
Thursday: 10 a.m. – 7 p.m.
Saturday and Sunday: 12 p.m. – 5 p.m.
Please note: The Library Gallery will be closed from December 23 through January 2 for UMBC's winter break.
Aaron Siskind: Formations is shown concurrently with Sonya Clark: Hair/Craft.
Image: Aaron Siskind, Terrors and Pleasures of Levitation: No. 37, 1953. Gelatin silver print, 10 x 9 1/2 in. Library Purchase, The Photography Collections, UMBC (P78-26-001) © Virginia Museum of Fine Arts.
Event Contact
Event Details
Repeats weekly Monday and Tuesday and Wednesday and Friday -- until Sunday March 12, 2023.
Repeats weekly Thursday -- until Sunday March 12, 2023.
Repeats weekly Sunday and Saturday -- until Sunday March 12, 2023 -- except Friday December 23, 2022, Saturday December 24, 2022, Sunday December 25, 2022, Monday December 26, 2022, Tuesday December 27, 2022, Wednesday December 28, 2022, Thursday December 29, 2022, Friday December 30, 2022, Saturday December 31, 2022, Sunday January 1, 2023, Monday January 2, 2023.
Free
Location
Add Event To Your Calendar