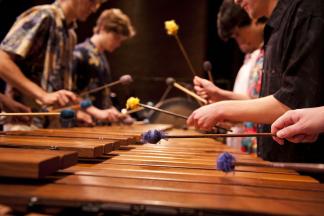 UMBC's Department of Music presents the UMBC Percussion Ensemble under the direction of Tom Goldstein.
The Percussion Ensemble is highly adventurous in its programming, with a repertoire that includes graphic-notation pieces, improvisational works and theater pieces, as well as works by important early percussion composers such as John Cage, Carlos Chavez, and Alan Hovhaness.
Tickets are free, but reservations are required. Please visit here to reserve seats.
Earl and Darielle Linehan Concert Hall is easy to visit, with plenty of free parking. Please visit here for directions and parking information.
Event Contact
Event Details
Thursday, December 8, 2022, 7:30 PM – 9:00 PM
Free
Location
Add Event To Your Calendar