A Feast in the Desert: Food Insecurity in Baltimore Exhibition Artist Talk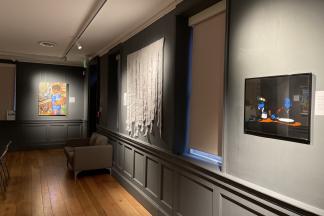 Join us for an onlne artist talk!
"A Feast In The Desert, " curated by Alexis Tyson, shares the artist's voices in appreciating the role food plays in strengthening our bonds and educating our community on food disparity in Baltimore. An intimate exhibition that showcases 4 artists across Baltimore – each offering a story of how food affects them and their lifestyles. Along with educating our community on the food deserts that exist around Baltimore, the exhibition also accepts canned goods donations that will in turn be shared with our 3 partners; The Baltimore Hunger Project, The Dia Network and Outcast Food Network, to help disrupt the effects of food insecurity in Baltimore.
The exhibition is also a chance for viewers to examine their own relationships with food and how it fits in their lives. We encourage our audience to look outside of the lens of food insecurity and consider the conditions and circumstances that led our city here. To fix the problem we must address both the cause of the insecurity and the direct consequence
Featured artists include:
Schroeder Cherry
Chloe Griffin
Ramon Knight
Maurice Scarlett III
Event Contact
Kim Domanski
6672221814
Event Details
Friday, January 6, 2023, 6:00 PM – 7:00 PM
6672221814
Free
Location
Add Event To Your Calendar