Baltimore Fine Art Print Fair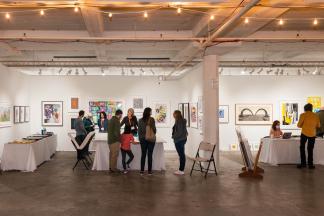 The second annual Baltimore Fine Art Print Fair (BFAPF) is coming soon, March 30-April 2, 2023. The only all-contemporary print fair in the country, BFAPF showcases the latest contemporary prints and multiples from an international array of thirty galleries, dealers, and print publishers. The print fair takes place once again at the Baltimore Innovation Center, 1100 Wicomico Street in Baltimore's Pigtown neighborhood. The fair will kick off with a VIP Preview Party on Thursday, March 30, from 6:00–9:00 pm, and runs through the weekend. Tickets for this much-anticipated event are available at the fair's website: baltimoreprintfair.com.
Live-streamed during the 2022 BFAPF, historian and master printer Phil Sanders talked with fair organizer Ann Shafer about the event and the print ecosystem. Shafer, now an independent curator, directed three Contemporary Print Fairs at the Baltimore Museum of Art while a curator there. As a partner in Fine Arts Baltimore, she brings her knowledge of the fine art print world to her role by creating content and programming. With Sanders, she shares a deep and abiding passion for prints.
Event Contact
Ann Shafer
410-790-9446
Event Details
Thursday, March 30, 2023, 6:00 PM – 9:00 PM
Friday, March 31, 2023, 12:00 PM – 7:00 PM
Saturday, April 1, 2023, 11:00 AM – 6:00 PM
Sunday, April 2, 2023, 11:00 AM – 6:00 PM
Location
Add Event To Your Calendar