4th Annual Happy Hooker Happening including a Speediest Stitcher competition on 1/18/23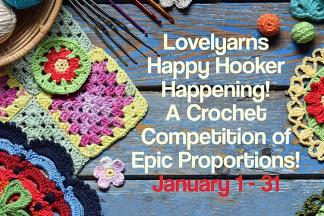 Lovelyarns Announces 4th Annual Happy Hooker Happening Taking place in
January as Monthlong Crocheting Competition with Prizes for Various Categories
As the colder months ahead keep us all indoors longer, Loveyarns gives us a wonderful way to be creative and make the time go by much quicker. Lovelyarns in Hampden is hosting the 4th Annual Happy Hooker Happening, taking place in January as a month-long crocheting competition with prizes for best designs and originality. It also includes a "Speediest Stitcher" LIVE competition, sponsored by Cascade Yarns, taking place in-store on Wednesday, January 18 at 7:30 p.m. For more information, visit Lovelyarns.com and for information on the Happy Hooker event, visit lovelyarns.com/happy-hooker-happening.
To enter the 4th Annual Happy Hooker event, there is a $5.00 fee and all entries must be dropped off at Lovelyarns by Tuesday, January 31 at 7:00 pm. There are prizes for Best Technical Merit, Best Overall and People's Choice in various categories including Biggest Granny Square, Most Granny Squares, Original Design, Fashion Garment, Shawl, Tapestry/Mosiac, Tunisian Crochet, Home Décor & Afghan, Amigurumi & Stuffie, Rookie Hooker, Artistic Expression, Thread Crochet and Jewelry. Winners will be announced on Sunday, February 5, 2022 at 5 p.m. at the shop.
Event Contact
410-662-9276
Event Details
Repeats daily -- until Tuesday January 31, 2023.
410-662-9276
Location
Add Event To Your Calendar