Artist Talk with Lee Boot: Abstracts & Artifacts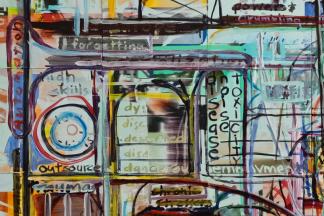 Online Event: Participants will receive a Zoom link one day prior to event.
Media artist Lee Boot will discuss his work in the exhibition, Abstracts & Artifacts, showing at The Peale until February 12th. Lee will engage the audience in considering the value, both for artists and society, as well as the aesthetic merits of artists pursuing an alternative career in which they work with scientists and policymakers on the challenges of our time.
Media artist Lee Boot stepped away from a promising artworld career to join scientists and others doing research to find ways to meet some of our most significant public challenges. For more than twenty-five years he has brought artist's thinking into rooms where it is seldom seen. Literally and figuratively, he has colored outside the lines, spilled paint on his colleagues, flipped the script and reframed conventional thinking to reimagine how we meet the challenges of our time and better ground our efforts in the cultures, experiences, and lives of the people they are intended to serve.
Works that will be on view are selected largely from projects Boot has led as a researcher, and more recently, Director of, the Imaging Research Center at UMBC. The exhibition is aptly located in Baltimore's newly renovated community museum, The Peale. As the Peale Museum, it was the first dedicated museum building in the US and it was established before art and science went their separate ways. Abstracts and Artifacts, illuminates how and why it is essential that they rediscover one another and work together once again.
Event Contact
Kim Domanski
6672221814
Event Details
Thursday, February 2, 2023, 6:00 PM – 7:30 PM
6672221814
Free
Location
Add Event To Your Calendar