I WAS LOOKING AT THE CEILING AND THEN I SAW THE SKY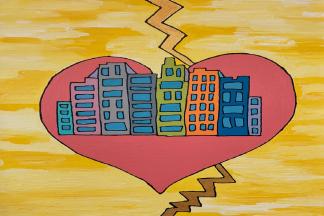 From IN Series
I WAS LOOKING AT THE CEILING AND THEN I SAW THE SKY
By John Adams
Texts by June Jordan
April 14 – 16
IN Series premieres a new production of composer John Adams and poet June Jordan's seminal collaboration I WAS LOOKING AT THE CEILING AND THEN I SAW THE SKY. This production is the first new staging of the work since its premiere recording with Broadway legend Audra McDonald. Called by its creators a "song-play", CEILING/ SKY blends America's popular music styles with searching poetry of love and the leaning towards justice, while telling the story of seven mix-matched souls that find themselves thrown together during the 1994 Northridge earthquake.
This luminous work takes its title from one of the survivors of that disaster, its music from America's most important living composer, and its text from a poet of uncompromising insistence on beauty. In it, love reveals that there is more to us than what we have come to believe.
This production is one of the nation's not-to-miss opera and theater events this year!
Directed by Timothy Nelson
Musical Direction by Emily Baltzer and Dave Chavez
FEATURING: Judy Yannini, Daniel J. Smith, Shana Oshiro
COVID Policy:
Masks are optional but strongly recommended.
If you have any COVID-associated symptoms the day of the show, please do not attend.
Showtimes:
April 14 & 15 @ 7:30pm
April 16 @ 3:00pm
Tickets:
General Admission: $30
Students: $20
Event Contact
410-752-8558
Event Details
Friday, April 14, 2023, 7:30 PM – 10:30 PM
Saturday, April 15, 2023, 7:30 PM – 10:30 PM
Sunday, April 16, 2023, 3:00 PM – 5:30 PM
410-752-8558
Location
Add Event To Your Calendar