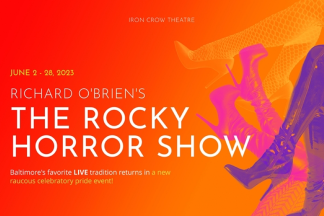 THE ROCKY HORROR SHOW
By Richard O'Brien
Iron Crow Theatre
Through June 17
Baltimore's favorite LIVE tradition returns in a new raucous celebratory pride event!
In this cult classic, sweethearts Brad and Janet, stuck with a flat tire during a storm, discover the eerie mansion of Dr. Frank-N-Furter. As their innocence is lost, Brad and Janet meet a houseful of wild characters, including a rocking biker and a creepy butler. Through elaborate dances and rock songs, Frank-N-Furter unveils his latest creation: a muscular man named "Rocky."
Every ticket holder gets an audience participation script and prop bag complete with cascading toilet paper, water guns, and an array of other gadgets and goodies! This deliberately kitschy rock 'n' roll sci-fi gothic musical is Baltimore's favorite yearly tradition, and this year it's more fun than ever!
Showtimes:
June 16 @ 8pm
June 17 @ 8pm
Tickets:
$45.00 - $55.00
Event Contact
410-752-8558
Event Details
Repeats weekly Friday and Saturday -- until Sunday June 18, 2023.
443-637-2769
Location
Add Event To Your Calendar