THE SECOND SATURDAY S#!T SHOW FEATURING Anthony Oakes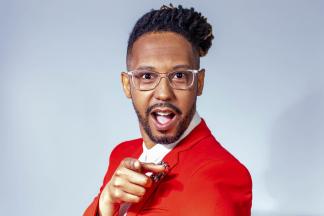 The Second Saturday S#!T Show!
***Stand Up Comedy***
Doors and Pre Show Bleachers #HappyHour at 7PM.
Show Time is 8PM.
Hailing from North Carolina, Anthony D. Oakes is a District of Columbia resident who is taking comedy and storytelling on the east coast by storm. A natural comedian, Anthony has hit the ground running. His clean-esque, yet edgy, southern, intellectual, witty humor will have you reeling with laughter.
Features:
Law is an outstanding wordsmith and humorist. He recently just won MaGooby's Joke House New Comedians of the year for 2022!
Valerie Paschall is a Washington, DC-based writer and comedian. Within the past two years, she's performed at the Omaha Comedy Festival, the Burbank Comedy Festival and the Laugh Riot Grrrl Comedy Festival. She's a high energy performer who has been described by her peers as "a ray of sassy light," "acerbic and delightful" and having "such a calm but zany, very watchable presence." Her spiritual home is LA's Tao Comedy Studio. Her actual home is a basement apartment in DC with her girlfriend and two cats.
Mike Moran hosts the Confessional Podcast, and has opened for Robert Klien, Creed Bratton, Michael Ian Black, etc. He has a special entitled Please Like Me, and a mini-special called Pause Comedy, both available on Youtube. Mike also writes for the satirical online newspaper, The Hard Times, and runs A Support Group for Depression and Anxiety where we Eat Cereal, online.
Pierre Bennu is an award winning filmmaker, writer, artist and performer. he is the principal creative of exittheapple, an alternative media and arts company specializing in film and digital media, visual arts, gift books, and music.
Host:
Mike Quindlen is host of this the longest continuously running comedy show in the history of Baltimore comedy. He is a Philly guy who found happiness in Baltimore. He has opened for Rich Vos, J.B. Smoove, Alonzo Bodden, the late John Weatherspoon, Doug Stanhope and a few other legends. Mike is also the founder and creative director of the Ellicott Silly Comedy Festival.
The Shit Show is folloed by the FREE #GirlsRule #DanceParty
Event Contact
Mike Quindlen
443-519-6361
Event Details
Saturday, February 11, 2023, 8:00 PM – 9:45 PM
Location
Add Event To Your Calendar