Blackscope Cinema Series: Hargrove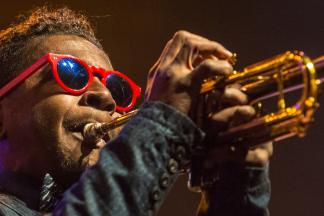 Creative Alliance's monthly Blackscope Cinema Series expands our understanding and appreciation of Black Film in America. Through varying programming, including talks, demos, and making activities, the Baltimore community is invited to celebrate modern and contemporary film from Black and Diasporic creators.
Blackscope Cinema Series kicks off with Hargrove (2021) and features a Q+A with Hargrove director and producer, Eliane Henri, about the process of creating the film and documenting a legendary subject.
Hargrove is a vérité style documentary, chronicling the last year of trumpet legend Roy Hargrove's life as he embarks on his final European summer tour. Music icons including Erykah Badu, Herbie Hancock, Questlove, Robert Glasper, Sonny Rollins, Wynton Marsalis, and Yasiin Bey, pay tribute to Hargrove's artistry, impact, and legacy. Roy Hargrove is your favorite musician's favorite musician. Shot in Los Angeles, Dallas, New York, Vienne, Perugia, Sète, Sorrento, and Marseille, this film features stunning live performances by Hargrove in the last year of his life.
About Eliane Henri
Eliane Henri, has a long-standing career in Hollywood, starting as a Creative Director in the music industry working for her mentor Quincy Jones in the 1990s, moving into PR & Special Events as a Director at Harrison & Shriftman, a multinational PR firm in the early 2000s. In 2003, Eliane founded her own event production company, Poplife Productions, where she produced events and experiences for cultural icons including Forest Whitaker, Naomi Campbell, Mos Def, Stevie Wonder, Jay Z, Sean "P. Diddy" Combs, and Yoko Ono. In 2013, Henri segued into documentary production, as a producer on the film Feel Rich: Health is the New Wealth, executive produced by her mentor Quincy Jones. Her unique access to Roy Hargrove, an eccentric and elusive character, makes her a unique fit as director for this piece.
Event Contact
Event Details
Thursday, February 2, 2023, 7:00 PM – 9:00 PM
Location
Add Event To Your Calendar