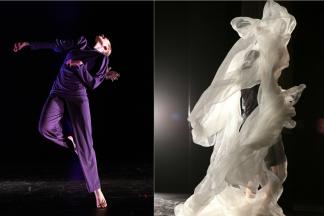 KINETIC CROSSINGS
Intersecting creative pathways, Nicole A. Martinell (Artistic Director of Deep Vision Dance Company) and Saiko Kino (dancer and choreographer from Japan) share an illuminating evening of contemporary dance works. Martinell re-creates In Faith, a vivid, spiritual journey of friction, connection, and gratitude through the eyes of a Muslim man and a Christian woman. Kino's mesmerizing Shizuka, revives Shizuka Gozen, a 12th century mixed-gender dancer known for her extraordinary psychic powers and political influence.
Concert features collaborations with Asako Miura and Heather Mork (lighting design), Timothy Nohe (composer), Jamahl Rahmaan (movement artist), Michiyo Yagi (musician), Homayra Ziad (scholar-activist), and the Deep Vision dancers.
Location: Theatre Project, 45 W Preston St., Baltimore, MD 21201
Times: Friday, March 10 @ 8:00PM & Saturday, March 11 @ 8:00PM
Tickets: $25 General; $20 for Seniors/Military/Artists; $15 Students; 410-752-8558.
Purchase Tickets at: https://theatreproject.ticketspice.com/kinetic-crossings
This performance is supported in part by the Maryland State Arts Council (msac.org), Maryland Dance Education Association, Yoshinobu & Kathleen Shiota, Citizens of Baltimore County, AA&CC members and donors, Lord Baltimore Hotel, and Towson University Department of Dance.
Event Contact
Nicole Martinell
Event Details
Repeats daily 2 times.
410-752-8558
Location
Add Event To Your Calendar