2nd Wednesdays: Supporting Nature with Urban Gardening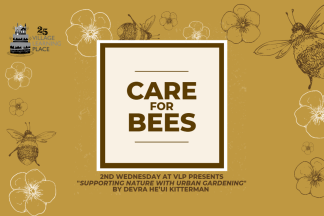 Devra He'ui Kitterman is a Baltimore City Beekeeper and the previous Pollinator Program Coordinator for the Maryland Agricultural Resource Council at the Baltimore County Agricultural Center. She is the retired owner/operator of He'ui Horticultural Services which provided Commercial Interior Plant and Exterior Landscape Design Services for 27 years. She writes and speaks to community and educational groups about protecting and planting for pollinators, habitat creation, Environmental protection, and especially Stewardship.
2ND WEDNESDAYS AT THE VLP is a free monthly series of talks, concerts, and special arts events held in the historic Village Learning Place library.
Event Contact
Village Learning Place
4102352210
Event Details
Wednesday, February 8, 2023, 7:00 PM – 9:00 PM
Free
Location
Add Event To Your Calendar